About US
BEST Racing Systems company is based in central New Jersey based that provides complete computerized scoring, race timing, finish line and event management for small to large road races. We have doing this for over 15 years averaging over 90 races per year. Our staff consists of people who are runners themselves, have been volunteers at many races, have been officials, coached runners, and have advanced computer degrees. We are also ChronoTrack Certified Timers.
In addition to our main business, we provide a wide range of other services such as race planning, course design, application design, building your race web site, marketing, registration, and even creation of flash commercials to embed in your web site. If you need someone to handle it all, to be your race director for example, we can do that too, just let us know.
If you are thinking of putting of putting on a race for the first time, and want someone to guide you through to make your race look professional from the beginning BEST Racing is the company to go with. Please keep in mind we get booked up early so the sooner you contact us the more likely we will be available to help you.
If you want to know how well we do our work, just contact any of the races we've done in the pass and ask them. Most of the new work we get are referrals from other races we've done.
Here some more details on main business.
We use the latest technologies (Intel Based Laptops / Laser Printers), customize software (developed by BEST themselves), most advanced timing devices from the latest in rid disposible chips and bar code readers.
Best Racing was one of the first companies to time races using disposable chips when it started timing races with disposable chips in January of 2005. Keeping up with the latest and best technology in race timing, BEST Racing is now using the revolutionary ChronoTrack B-Tags. The B-tag is easy to attach your bib , is far lighter and less intrusive than other timing tags and chips. Once the B-tag is attached to your bib, you will quickly forget that it is even there! These chips are the same chips used in the New York City Marathon.
We also provide secure on-line registration via a partnership with RunSignUp, one of the the best on-line registration system in area. ( they are also a NJ based company) . A lot of New Jersey races are using it so a lot of runners are already using it, making your exposure to the running neighborhood even greater. Great not only for registering participants for fund rasing, donations, email marketing and volunteer management..
Finish time, pace per mile, overall and age group place are quickly available for each runner after they cross the finish line.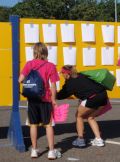 Results are also instantly available on you mobile phone or device via our mobile app .
Also, BEST's Awards Report makes it extremely easy for the Race Directors to hand out awards quickly and accurately (no more spending what seems like hours trying to figure out who gets what).

Just as easily, race results can be provided to local newspapers via the web or email.
Results are posted on the web race day.

We can provide stop watches, finish line banner and start line banner at no extra cost.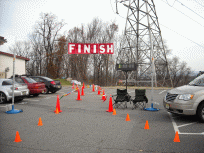 For over 15 years, BEST has done every type of road race from 1 Mile Fun Runs and 5Ks to Marathons, Biathlons, and Triathlons, and has a large variety of services to choose from to best suit your race needs.
---
For more information about BEST Racing Systems, please send an email to bill@bestrace.com

Copyright © 1996 - 2016
Last Updated: December 31, 2009